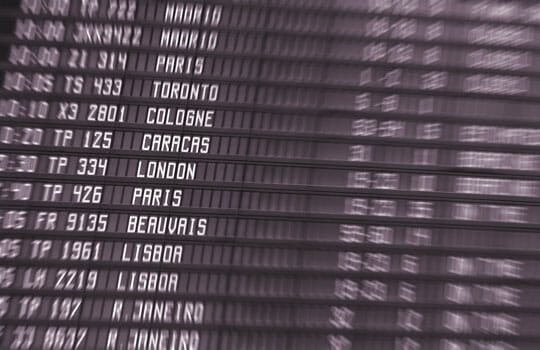 Personal Travel Insurance
Travel Insurance can be the most important purchase you make before your trip. No matter whether it's a holiday or business trip, having appropriate cover for both yourself and those you are travelling with is essential.
If you need advice or guidance please call one of our professional advisers on 020 7354 3881 or send a message.
If you know what you need and would rather quote and buy online – please click the button below and you could be printing off your policy in minutes.
If you are under 75 and do not have any pre-existing medical conditions, click here:
If you are 75 or over, or you have any pre-existing medical conditions, or have had difficulty obtaining travel insurance at all,  click here:
Key Features Of Our Personal Travel Insurance
Cancellation or Curtailment
This could be if you fall ill or have been made redundant.
Cover should you have to cancel or cut your trip short.
Ellis David can provide cover that gives you peace of mind.
Delay to your trip
Ask your airline to confirm the delay in writing and keep any receipts of your purchases during this time.
Delivering compensation if your flight is delayed for more than 12 hours.
At Ellis David, we aim to support you through a 'no quibble' approach to claims.
Lost or stolen baggage or belongings
Where required, even high value items such as Jewellery can be accommodated
Cover should you lose your baggage or possessions get stolen when away.
A completely flexible approach to holiday and business travel insurance
Personal Liability
82% of young Brits are more likely participate in higher risk activities on holiday
If you injure someone accidentally and they make a claim against you.
Skiing, windsurfing or any other high risk activities can lead to accidents involving others.
Medical Cover
The UK government won't pay for medical treatment if you're ill abroad.
Health care is not often free. Even a minor stomach bug claim can be upwards of £900.
Medical treatment abroad can soon become a major headache if you are not correctly insured.
Travel Insurance from Ellis David
You wouldn't consider going abroad without your passport or plane tickets, yet every year thousands of people travel the world without travel insurance. It is estimated that over 48% of 15-24 years old traveling without cover. When planning a trip no one likes to think of the worst, but planning ahead is essential when visiting a foreign country. What happens if you fall ill in a country where the health service isn't free or your baggage gets stolen? What would you do if the company you are traveling with goes bust or you're made redundant and have to cancel your holiday all together? Having quality Business Travel or Holiday Insurance can stop your relaxing get away from turning into an expensive nightmare.
Once you know your destination, call Ellis David now on 020 7354 3881 or send a message tto arrange cover for your trip..
At Ellis David we know that holidays can differ greatly and your insurance needs to reflect this to make sure you are adequately covered. We will tailor a policy to suit your needs and those of who you a traveling with so when you're away, you can concentrate fully on the experience rather than worrying about what to do if the worst happens.
Call us now on 020 7354 3881 or send a message t to see how Ellis David can assist you with your Travel Insurance Needs.
Who Needs Travel Insurance?
The answer to this is simple. If you are leaving the United Kingdom and are not covered through a policy with work, you need Travel Insurance.
A policy with Ellis David allows your Travel Insurance Policy to be flexible incorporating a wide range of reasons to travel and risks that you face once you get there. So whether you have children on a gap year in South America with a stomach bug, a business meeting in Hong Kong cancelled at the last minute, a bag stolen on a family summer holiday or have just booked a last minute weekend city break in Europe, Ellis David will be able to provide you with adequate insurance, and peace of mind that we will assist you with your claims should anything happen while abroad.
Why Compare Travel Insurance Quotes with Ellis David?
No one expects the worst to happen when on holiday but stolen baggage or sick children can be extremely stressful when away from home. It is important that you have insurance with a company that you trust if you need help in an emergency.
Ellis David has over 150 years of combined broking experience with a strong focus on customer service and satisfaction. Our team are available via email or phone at your convenience and will keep you informed throughout the entire process from taking out your insurance, renewing it and even managing your claim should you need to make one.
We work closely with both our clients and insurers to create a tailored policy to suit your needs so that you are properly insured for all eventualities.
Call Ellis David now on 020 7354 3881 or send a message.
Other Personal Insurance Products By Ellis David